Welcome to the ESPL-LIVE HDR Subjective Image Quality Database
Measuring digital picture quality, as perceived by human observers, is increasingly important in many applications in which humans are the ultimate consumers of visual information. Standard dynamic range (SDR) images provide 8 bits/color/pixel. High dynamic range (HDR) images, usually created from multiple exposures of the same scene, can provide 16 or 32 bits/color/pixel, but need to be tonemapped to SDR for display on standard monitors. Multi-exposure fusion (MEF) techniques bypass HDR creation and fuse exposure stack directly to SDR images with aesthetically pleasing luminance and color distributions. Many HDR and MEF databases have a relatively small number of images and human opinion scores. The opinion scores have been obtained in stringently controlled environments, thereby limiting realistic viewing. To overcome these challenges, we have conducted a massively crowdsourced online subjective study. The primary contributions of this paper are (1) creating the ESPL-LIVE HDR Image Database containing diverse images obtained by TMO and MEF algorithms, with and without post-processing; (2) conducting a large-scale subjective study using a crowdsourced platform to gather more than 300,000 opinion scores on 1,811 images from over 5,000 unique observers; and (3) evaluating correlation performance of state-of-the-art no-reference image quality assessment algorithms vs. opinion scores on these images.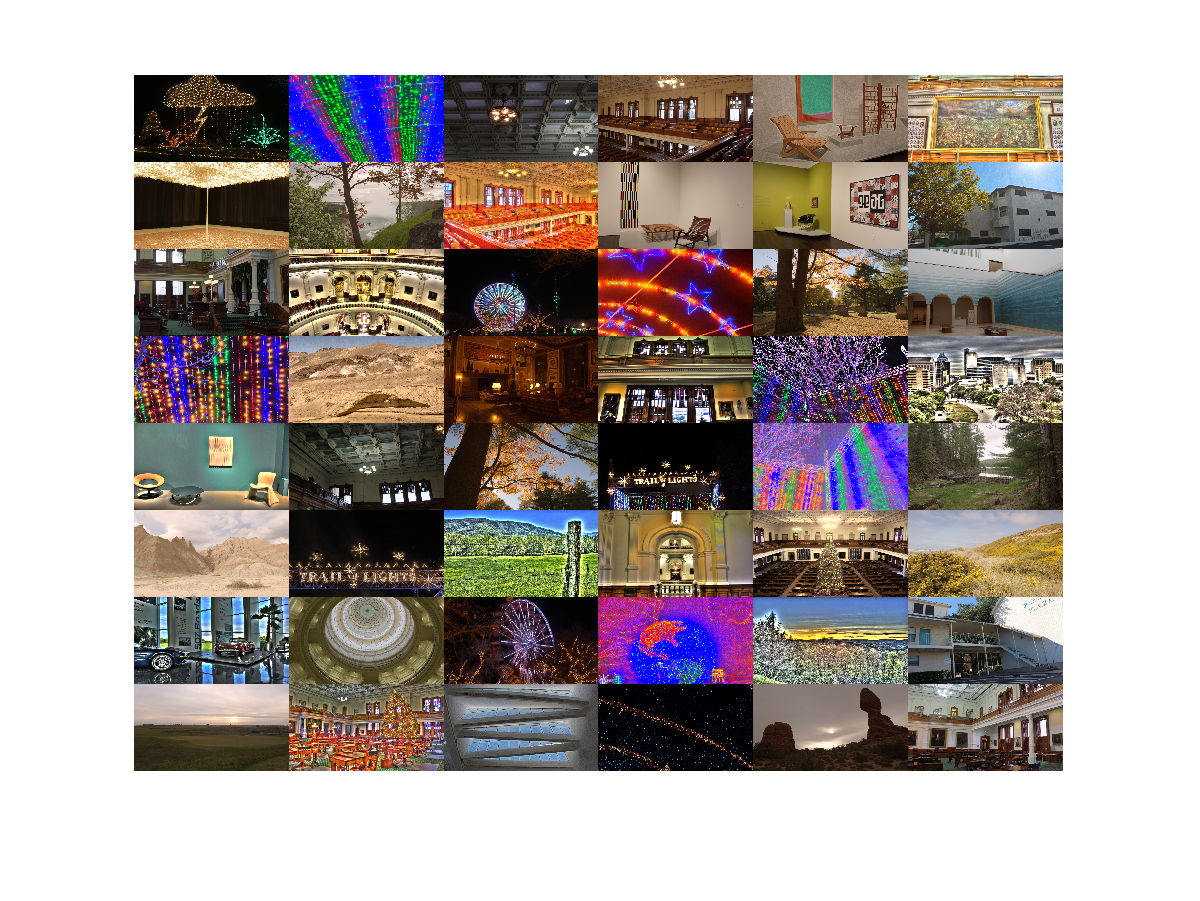 Download
We are making the ESPL-LIVE HDR Image Quality Database available to the research community free of charge. If you use this database in your research, we kindly ask that you reference our papers listed below:
You can download the database by clicking THIS link.
Investigators
The investigators in this research are:
Copyright Notice
-----------COPYRIGHT NOTICE STARTS WITH THIS LINE------------
Copyright (c) 2016 The University of Texas at Austin
All rights reserved.

Permission is hereby granted, without written agreement and without license or royalty fees, to use, copy, modify, and distribute this database (the images, the results and the source files) and its documentation for any purpose, provided that the copyright notice in its entirity appear in all copies of this database, and the original source of this database, Embedded Signal Processing Laboratory (ESPL, http://www.signal.ece.utexas.edu ) and Laboratory for Image & Video Engineering (LIVE, http://www.live.ece.utexas.edu ) at the University of Texas at Austin (UT Austin, http://www.utexas.edu ), is acknowledged in any publication that reports research using this database.
The following papers are to be cited in the bibliography whenever the database is used as:
IN NO EVENT SHALL THE UNIVERSITY OF TEXAS AT AUSTIN BE LIABLE TO ANY PARTY FOR DIRECT, INDIRECT, SPECIAL, INCIDENTAL, OR CONSEQUENTIAL DAMAGES ARISING OUT OF THE USE OF THIS DATABASE AND ITS DOCUMENTATION, EVEN IF THE UNIVERSITY OF TEXAS AT AUSTIN HAS BEEN ADVISED OF THE POSSIBILITY OF SUCH DAMAGE.

THE UNIVERSITY OF TEXAS AT AUSTIN SPECIFICALLY DISCLAIMS ANY WARRANTIES, INCLUDING, BUT NOT LIMITED TO, THE IMPLIED WARRANTIES OF MERCHANTABILITY AND FITNESS FOR A PARTICULAR PURPOSE. THE DATABASE PROVIDED HEREUNDER IS ON AN "AS IS" BASIS, AND THE UNIVERSITY OF TEXAS AT AUSTIN HAS NO OBLIGATION TO PROVIDE MAINTENANCE, SUPPORT, UPDATES, ENHANCEMENTS, OR MODIFICATIONS.
-----------COPYRIGHT NOTICE ENDS WITH THIS LINE------------
Back to Quality Assessment Research page